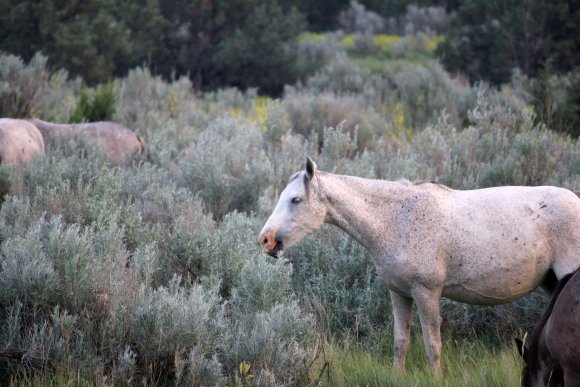 courtesy: goodfreephotos.com
Ever feel like a lonely horse wandering in the wilderness? Join the club. I lived there . . .  . for 31 years. Where do we miss out on life's fulness and best? Here are some  detours leading to: emptiness, loneliness, pipe dreams, trainwrecks and heartache. I've been there.
inner sadness . . . bored with life . . . no joy . . . no escape . . . desperation . . .  desperate . . .  desperation . . . desperate . . . helpless . . . trapped in loneliness . . . trapped . . .  lonely . . .
1.   Have you broken  the Ten Commandments? (Exod 20.3-17; Rom 3.10,23). For pressing reasons, they are not the Ten Suggestions.
2. Hang out with friends that bring temptation into your life. Believe the lie that God's house and His people are not enough for you. To be fulfilled in life you must have worldly friends and unclean activities.
3. Read and watch worldly videos and X-rated movies that steal  your clean thoughts and purity. Take stimulants that remove your self-control and will power to resist sin. Be pleasure-driven.
4. Run from  the Creator-God of the Bible who has proven His love by sending His Son to pay for all your sins and offer you forgiveness, peace and eternal life.
5.   Do not commit to a salvation-preaching, Bible teaching church. You know more than the Bible. Messages about sin can make one feel guilty if he does not want to repent and come home to Jesus.  Has living life your way worked well? One cannot reject Bible principles and have God's blessings. "The way of the transgressor is hard." (Prov 13.15).
6. Falsely assume that you can clean up your act in your strength. If you could you would probably have done so long ago.  If you could that would make you your own Savior, not Jesus Christ. And if so, Jesus wasted His time dying for your sins.
THERE IS GOOD NEWS!
The truth is that we are all sinners with a wicked, fallen nature. We need an outside Savior to give us a new heart, a clean, pure heart. God offers that to you today.
Jesus said: "The thief comes only to steal, and kill, and destroy; I came that they might have life,and might have it abundantly." (Jn 10.10 NAS).
"I will give you a new heart and I will put a new spirit within you; and I will remove the heart of stone from your flesh and give you a heart of flesh." (Ezek 36.26 NAS)(2 Cor 5.17; Rom 10.13).
No unsaved person is good in God's eyes. And backslidden Christians lack peace. No one except Jesus has kept the Ten Commandments. Their purpose includes revealing our sin to us. He is perfect. That is how He could die for our sins on the Cross.  By asking Him, trusting Him, to do that, we can receive His full forgiveness for our sin . .  peace . .  abundant life now and eternal life with Jesus.
If you believe this and want this, tell Jesus now. Ask Him to come into your heart and forgive all your sins. I did that years ago. Best decision I've ever made! Come home to Jesus. No other religion has a real answer for our sin problem.
 Salvation prayer: "Lord Jesus, I confess and repent of my sin. Forgive me! I am sorry. I believe that You died on the Cross to pay the  penalty for all my sin. Take control of my life right now. Thank You."